We have compiled a list of programs, software, and board games designed specifically to target spelling in a structured but fun way. We have used some of these at the Center and have found them to be successful tools.
These programs cannot replace direct intervention, but they can enhance the therapy program. In most cases, the client will need guidance from a therapist or teacher to help him or her learn the underlying skills for spelling. Most importantly, if you live in an area with limited access to professional help, these programs can offer your client additional practice and support. This can increase your client's confidence in the classroom. Success starts here!
Some of the items on list are self-explanatory; however, for the majority of the items your client will need training from a professional to get the best results. We provide a brief description of the program or tool and the link where you can go to find more about it.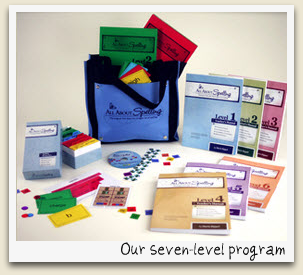 The "All About Spelling" program is a sequential program for children who experience spelling difficulties. The program starts with sound-symbol relationships, and children must learn what sounds the different letter symbols represent before they continue on with the program.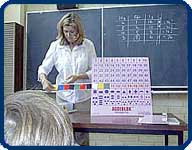 Audiblox is a set of cognitive exercises that can help students overcome learning disabilities. The program can be used individually, or in a group, and is suitable for all age groups. It has both a one-on-one version to be used with a parent, teacher or tutor, and a classroom version. It specifically targets foundational learning skills, like reading, writing and spelling.
The Barton Reading and Spelling System is a system of ten levels used to improve the reading and spelling skills of students with dyslexia. Each level is purchased separately and administered in a tutoring situation, not a classroom setting. Parents can become tutors for their children by watching an instructional DVD and passing a 5-minute tutor screening.
This software program is not targeted specifically to children with learning disabilities or dyslexia, but offers a fun way to practice and improve spelling skills. The software is interactive and uses text to speech and Microsoft Agent technology. Characters call the child by his or her name and offer encouragement. Spellings that children find especially difficult are repeated for practice more frequently, and specific spelling lists can be entered into the system for practice. The spelling system can be used by children for individual practice, and spelling lists can be shared between users. The cost is $30.00 for a single user, and a free online 60-day demo version is available online.
Read&Write helps dyslexic students and those with spelling difficulties by using a word prediction tool alongside common word processing programs and applications. The tool also saves the user's spellings so that it learns his or her particular vocabulary for future sessions. The user can also play back what he or she has typed, to listen for missing or misspelled words.
SPELL-Links uses a speech-to-print word study approach that leverages the brain's innate, biological wiring and organization for oral language. Unlike other reading programs, which begin with the written letter and teach students to match the letter to a sound, SPELL-Links first helps students learn how to attend to the sound structure of spoken English words and then how to connect and combine sounds (phonology), letter patterns (orthography, mental orthographic images), and meanings (semantics, morphology) to read and spell words.
The software contains 10 spelling lists selected by experts for each grade 1-10. The lists get progressively harder, so that the user can learn at his or her own pace. The user can also create his or her own spelling lists to learn, and can study them using three different study drills or dictation cards. The software recognizes when a word is mastered, or when a student struggles with a specific word, and does not keep repeating the already-known words. Additionally, the software contains an extensive dictionary and thesaurus with a pronunciation tool so that the student will know how to pronounce all the words he or she is learning to spell. The tool charts the student's progress over time for teachers and parents.
WordWorks offers a unique and interactive approach to building literacy skills by developing children's reading, comprehension, vocabulary, and spelling abilities. They accomplish this by teaching children how to investigate the patterns of the written word. They offer personalized tutoring, teacher workshops, and resources for teachers and parents such as references and activities.